Indomptable Angélique - "Untamable Angelique"

This is the fourth film of the Angélique series. Having discovered that her beloved is still alive, Angélique boards a galley ship and sails the Mediterranean. However, their ship is attacked by pirates and Angélique once more finds herself in peril...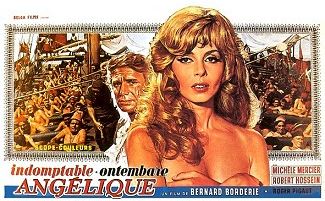 Angelique sets sail in hopes of discovering the truth about a man she once loved and lost.
Angélique has travelled to the south of France to find Joffrey. She meets the Duke De Vivonne who is on a mission for the king and blackmails him to take her on board otherwise she will reveal all about the black messes she has seen and in which his sister - La Montespan - took place. They sail to Sardinia when they are attacked by the Rescator who attacks all the ship of the king. What she does not know is that the Rescator is Joffrey.

Angélique jumps in the water trying to escape from the pirates. Savary is picked up by Joffreys people and before he dies he tells him that Angélique was on the ship too. Meanwhile Angélique is picked up by d'Escrainville, a nobleman who has been banned because of a woman and who has sworn to take revenge on all women. He rapes her and throws her between the condemned pirates on his ship. She is saved by his second man, Coriano, who convinces him that Angélique could be sold for at least 20.000 sequins.

Because Angélique has a fever she doesn't notice that Joffrey-Rescator comes on board and offers d'Escrainville 50.000 sequins if he finds her.
D'Escrainville who hates Rescator, says he hasn't seen her. He prefers to sell her on the market. After being humiliated she is sold for 200.000 sequins, Angélique is horrified by the man, but she doesn't know he is a messenger from Jeoffrey. He brings her to a palace and there she is reunited with her one and true love .... Jeoffrey. But d'Escrainville seeks revenge, he sets fire to Jeoffrey's ship and kidnaps Angélique.